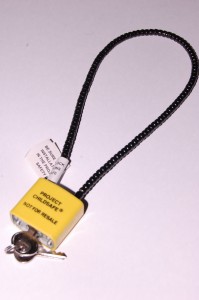 Last week, I stopped by my local VA and saw a box with "FREE, take one" on it. When I peeked inside, this (image left) is what I found. Ever seen one? I hadn't. It's a gun lock and it's part of the Veteran Family Firearm Safety Program in partnership with Project ChildSafe.
Project ChildSafe is a national program which "promotes safe firearms handling and storage" through education and providing free safety kits to gun owners. According to their website, they have given out over 36 million safety kits, across the U.S. and five of its territories, in approximately the last twelve years. The VA began endorsing the project in 2008 based on two primary objectives.
– Veteran family safety: Having been trained in the use of firearms and, in many cases, dependent upon them for safety in a combat zone, veterans often choose to own personal firearms during and after their military service. While promoting a sense of security, these weapons can, if not stored properly, also pose risks to those in the household.
At my location in Afghanistan, the average number of days we went without an accidental discharge was three. And that's with individuals who had firearms training and carried their weapons daily. In a household with spouses and children without that training, the risk increases. Using a firearm lock, such as those offered by Project ChildSafe, can help reduce the risk of a negligent discharge within the home.
For those of you who, like me, like statistics: According to the Center for Disease Control and Prevention's Data & Statistics website, the leading cause of death for individuals ages 1-44 is "unintentional injury" – 46,019 of them in 2013. Of those, 303 were due to firearms and 131 of the 303 were children and young adults ages 10-24. The most recent report I could find on gun safety devices was a 1991 report by the Government Accounting Office, which proposes that 31% of accidental shootings could be prevented through the use of safety devices, 8% of those through the use of gun locks.
– Reduce veteran suicide: Our fellow veterans are taking their own lives at an average of 22 a day. And a good number of them are doing so using firearms. According to the VA, male veterans are 1.3 times more likely than civilian men to take their lives using a firearm. While women veterans are twice as likely to commit suicide as their civilian counterparts and 1.6 times more likely to choose a firearm for such purposes.
According to a 2012 article, the VA is hoping that having to remove the gun lock might give a veteran thinking of taking his or her life an extra moment to reconsider. It's not an overall solution to the issue of veteran suicide, of course, but, in conjunction with the efforts of the 1, 2, Many Project, Give an Hour, and others, as well as the new provisions under the recently passed Clay Hunt Suicide Prevention Act, maybe it can help bring that number down.
If you are interested in getting your own free gun lock(s), you should be able to find them at your local VA medical facility. Several VA pages state that you have to contact a primary care doctor, mental health provider, suicide prevention coordinator, or patient advocate in order to obtain your lock. However, I found mine at the local VA's police and security facility, the same place that issues badges and parking decals.
Also, recent news articles have suggested that, in order to receive their free kits, veterans have to provide their name and address to the VA and that the VA may keep this information in an unofficial gun registry. While this may be true in some instances, I can tell you that when I got mine, no one asked me for a single piece of personal information. In fact, the only thing said to me was "Take as many as you need." If you aren't comfortable going to the VA to get yours or you don't live close to a VA, you can find the closest free safety kit location in your community by searching Project ChildSafe's website.
© 2015 – 2019, Sarah Maples LLC. All rights reserved.