When I moved to Jacksonville last year, Navy veteran and Microsoft Software and Systems Academy Site Manager Shawn T. Lewis was one of the first veterans I met. At a coffee shop networking event hosted by Jacksonville non-profit Vets on T.A.P., Shawn introduced himself with what I have come to learn is his regular level of enthusiasm and curiosity. As a strong advocate for his fellow veterans, Shawn is consistently on the lookout for opportunities to support transitioning service members and veterans, including being one of the few men to attend last year's Women in Defense First Coast EMPOWER event—and offering to help support the 2020 event (scheduled for March 28) to reach even more women in the defense and national security industry!
Over the past year, Shawn and I have had conversations on everything from podcasts to how to get more women interested in coding. I knew his easy conversational style would be a perfect fit for the Front & Center format and I was delighted when he agreed to do the interview. Read on to learn more about Shawn's time in the Navy, what he does as a Microsoft Site Manager, and his top advice for transitioning veterans.
1. Tell me a little about your Navy service – what made you decide to join, how long did you serve, highlights, etc.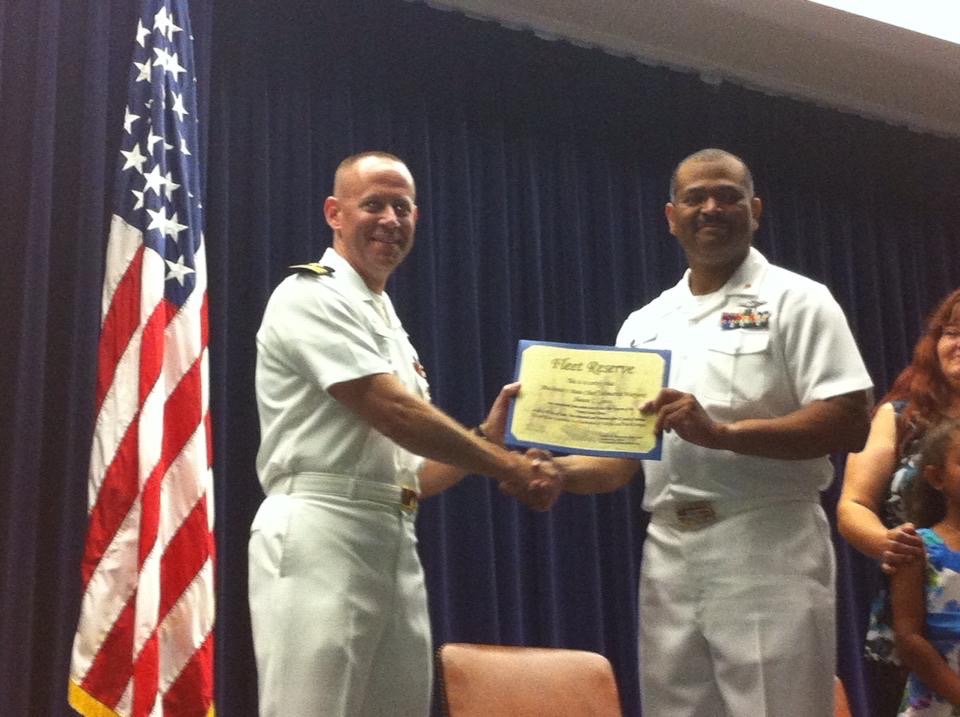 I left for Boot Camp June 17, 1991 as my teary-eyed Mother waved goodbye to me from our apartment window. It was a sad day for my Mother, but as it turned out, she was very proud of my decision.
I needed something to do and I thought that serving my country would be a really good idea. I never thought my career would span 23 years or that I would retire at the rank of Chief Petty Officer. The highlight of my career has been, and continues to be, the impact I had on various Sailors as I helped them advance through the ranks and figure out their personal lives in a variety of ways.
2) You've been out of the military since 2014. What made you decide to leave the service and how was your transition process?
I decided to leave the service in the Summer of 2013 and selected a retirement date of July 2014. It was a hard decision. I had given the military the best years of my life, but I woke up one morning, went to work, and submitted my retirement paperwork. It was just time.
I would describe my transition process using the words of my good friend Patty Piazza, who often says, "you don't know what you don't know." I made a lot of assumptions about the time I spent in the Navy, the job I did, and what I could or, more accurately, what I couldn't do.
Two years into retirement, I discovered that I'd been coaching service members throughout their careers. I found that my advice served them well and I thought I should continue to do this. You don't find many Career Coaches or Transition Counselors in the ranks of Submarine Torpedomen, but that's exactly what I'm doing.
I've heard horror stories of service members' transition process. Luckily, my process was relatively easy. I think I just adapted a "can-do" attitude in my transition process, and I figured out that I didn't have to be a Submarine Torpedoman when I retired: I could be or do whatever I wanted to with the right attitude and a plan.
3) You are now a Microsoft Software and Systems Academy Site Manager. Tell me a little about what that is and how you ended up in this position.
As the Site Manager for the Microsoft Software and Systems Academy – or MSSA for Short – I lead and facilitate daily discussions regarding career and professional development with a cohort of transitioning service members and veterans, establish positive relationships, and closely partner with our Academic Partner, Embry Riddle Aeronautical University (ERAU) and its employees.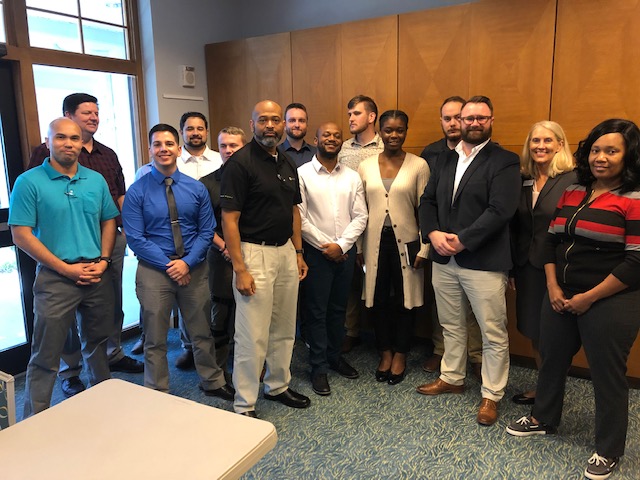 We all work in tandem to support and effectively execute the program's offerings and raise awareness of the MSSA program by partnering with various veteran support organizations throughout the Jacksonville tri-base area for the Army, Navy, Air Force, Marines, Coast Guard, National Guard, and Reservists.
The MSSA program is a DoD SkillBridge program and is part of Microsoft's commitment to empower service members to gain the critical technology skills required for today's high-paying tech careers prior to transitioning into the business community. The program prepares veterans for the digital economy by focusing on meaningful and long-term technology careers and the next generation tech talent that reflects the company's inclusive culture. We have locations with three learning paths throughout the country. In Jacksonville, we focus on Cloud Application Development.
I was extremely lucky, as the stars lined up just right for me to have the opportunity to interview for the Site Manager position. A good friend of mine called me up and told me that this position was still available, and asked if I wanted to interview. The job I had at the time wasn't working out and it was clear I needed to move on. When I submitted my resume for the Site Manager job, I got an out of office reply from one of the position's bosses. I remembered that the ribbon-cutting ceremony for MSSA was going to be on the Friday of that week. I thought to myself: "I bet she will be there." I showed up and had the good fortune to make a good impression that day and, a week later, I was offered the position.
4) What was the most difficult part of the transition process for you?
The most difficult part of the transition process for me was letting go of my Active Duty time. I had to realize that the Navy was going to continue without Chief Lewis, and I had to accept the fact that the crew was getting ready for its next mission and I had to get ready to go on with the rest of my life. My phone may not ring in the middle of the night anymore, but I always am happy to talk to a service member or a former shipmate.
5) What was one thing you found helpful during your transition?
Several things, but I'll name just three:
I took lots of notes during my Transition GPS Class. I referred to those notes often when I was preparing my resume and preparing for my interviews.
Networking is a continuous process.  Meet everyone whether they are in the industry you want to be in or not.  You never know who knows who and I never wanted to leave a bad impression with anyone I met.
Sometimes you need to stop talking and listen.  This has been the most important and helpful behavior I have adopted.  When someone who knows something you don't know gives up their time to talk with you, the best thing you can do is shut up and listen, and maybe they will continue to offer their sage advice. 
6) What's one thing you miss about the military?
I miss the camaraderie with those I worked with. I don't have that as often as I would like now-a-days.
7) What's one thing you like better about being a civilian?
I have two children. I was deployed a lot while my oldest was growing up, so I missed a lot. With my youngest child, I am witnessing the greatest transformation you can witness–watching your children grow up, mature, and develop their own minds. I am really enjoying being a witness to her maturity.
Shawn and other site managers will be leading Microsoft Software and Systems Academy classes across the country in the new year. Here are a list of dates and locations:
New classes start on Monday, January 13, 2020 at the following locations:
Jacksonville, FL
Camp Lejeune, NC
Fort Bragg, NC
Quantico, VA
Hampton Roads, VA
Fort Campbell, KY
Fort Carson, CO
Joint Base San Antonio, TX
Oceanside, CA
San Diego, CA
Schofield Barracks, HI
New classes start on Tuesday, January 14, 2020 at the following locations:
Lacey, WA (two classes)
Joint Base Lewis McChord, WA
You can find out more about MSSA here.
Microsoft also offers opportunities for military spouses and children, and provided me some information to share with you about them:
December 7, 2019 –Jacksonville, FL; location TBD

The event will include the local high school ROTC present arms and a color guard in advance of the ceremony. There will be a special remembrance table and a flag presentation ceremony with the playing of Taps in honor of Pearl Harbor Remembrance Day.

March 19, 2020 – Camp Lejeune, NC; location TBD
April 2020 (TBD) – Joint Base McGuire/Dix/Lakehurst, NJ; location TBD
Military Spouse Technology Academy (MSTA) Program
As part of the company's commitment to the military spouse community, Microsoft launched a pilot program in Tacoma, Washington last year, and expanded it to San Antonio in September after successfully graduating 19 military spouses from the pilot cohort.
The 22-week program was developed with input from the military spouse community as well as from Blue Star Families to better understand the needs of military spouses and create conditions for success. Microsoft has successfully opened a technology career pipeline for transitioning service members and veterans via MSSA and we are excited to expand and tailor these opportunities to military spouses, which represent a diverse talent pool that is adaptable, resilient and highly educated.
Do you have a military transition story to tell? Would you like to be featured in a "Front & Center" interview? Send an e-mail to afterthedd214@gmail with Front & Center in the subject line and tell us your story.
© 2019 – 2020, Sarah Maples LLC. All rights reserved.