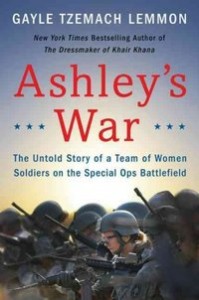 When I left the military in 2007, women were still officially banned from ground combat – though they were already fighting and dying in both Iraq and Afghanistan – and from serving in combat arms units. Now, eight years later, women have:
– Graduated from Ranger school
– Been admitted to Marine infantry school
– Been selected to serve on submarines
– Joined the Army as the first cannon crewmember
– Become the first female to command a Marine engineer support battalion
– Become 10th Mountain's first female Brigadier General
– Become the first female commander of a numbered fleet
And, just last week, the Secretary of Defense declared that all combat jobs will be opened to women.
Regardless of how you may feel about these changes – and I know there are a number of different and passionate stances on this, but this is an informational blog, not an opinion one -the fact is that the conversation around women in the military is changing. No longer is it just assumed that women "can't." Instead, people are starting to ask what can women do to contribute in service to this country. And women like Lieutenant Ashley White have helped to change that conversation.
Ashley's story, as told in Ashley's War, starts with the wars in Iraq and Afghanistan. American servicemen, usually charged with kicking down doors, conducting searches, and other frontline actions, found themselves forbidden from interacting with the local women. Unable to search or even speak to local women due to religious and cultural beliefs, they couldn't fully execute their missions. Something had to change.
The solution was to bring female servicemembers along on missions – getting around the whole ground combat exclusion by not officially assigning them to combat arms units. The first to try this were the Marines, with their Lioness teams in 2003. A slapdash arrangement, the women had very little training and were pulled from the women already in country. Several years later, the Marines would try something similar in Afghanistan. Again, the women were pulled from those already in country and pressed into service with minimal training. While these early starts proved largely successful, in order to truly leverage the benefits of women servicemembers in this capacity, the women were going to have to be selected and trained prior to arriving in country, just as their male counterparts had been.
Enter the Cultural Support Teams.
The idea for the CSTs came from what, for some, might seem like a surprising source – the Special Operations Community. Admiral Olson, then in charge of SOCOM, and Admiral McRaven, then in charge of JSOC, decided to build on the Marine Corps' success and create a group of elite women who would be attached to Special Operations units for the sole purpose of interacting with the local women and children on raids and other missions.
The women would be pulled from the Active Duty, Guard, and Reserve Army. They would go through a rigorous application and selection process and be trained in the tactics and other skills needed to support the fast-paced, no-room-for-errors kind of missions that Special Operations is famous for. Women like LT Ashley White were finally going to get the chance to be true warfighters, to prove – once and for all – exactly how much women in the military are capable of. No more barriers, no more restrictions – and they couldn't wait.
The lives of LT Ashley White and a host of other women who tried out for the new program would never be the same.
Written by Gayle Tzemach Lemmon, a Senior Fellow at the Council on Foreign Relations, bestselling author, and Navy wife, Ashley's War chronicles the path that led to the creation of these teams, the rigorous selection process, and the lives of the first women to become CSTs. Using a mix of facts and anecdotes, Tzemach Lemmon captures the pros and cons, ups and downs, fors and againsts, of the journey that Ashley, Lane, Amber, Kate, and others took to enter the battlefield alongside Special Operations teams. Tzemach Lemmon doesn't hesitate to cover even the most potentially uncomfortable topics – from spousal arguments, female tears, and stinky shoes, to periods, harassment, and grief. And she does so in a well-written, engaging narrative that will have you wanting to read "just one more page."
While it will take decades to see the full impact of opening combat roles to women, the women who will serve in the future will owe much to LT Ashley White and her band-of-sisters for helping to kick that particular door of opportunity open and to Gayle Tzemach Lemmon for ensuring that Ashley's story was recorded for future generations to read. You can find a copy of Ashley's War at your local library or your preferred bookseller. You can find out more about the author at www.gaylelemmon.com
Note: This post is focused on the book, Ashley's War. I have attempted to present my take on the novel, its contents, and its larger implications in as fair a way as possible. I ask that any comments you leave are equally as fair and focus on the book, rather than your take on women in combat. Any comments addressing women in combat roles – for or against – will be removed at my discretion.
© 2015 – 2020, Sarah Maples LLC. All rights reserved.